Commercial Plywood Compost Bin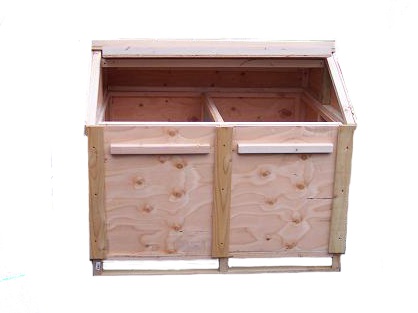 Commercial Plywood Compost Bin
Product Details:
- (approx 26 cf) 4' wide x 3'deep x 3' tall
- Recommended for school food waste (safe no pinch lid for children), restaurant waste, community composting
- Intended to raise large amounts of redworms or someone who wants to compost all of their yard debris.
- Easily started with 2-4 lbs of redworms and can hold up to 15+ lbs of redworms.
- This comes with an easy slide in top for easy feeding, removable front panels for easy harvesting.
The horizontal migration screen for composting on one side, then switching to the other side while the first side finishes (your redworms will migrate through the screen to the new compost). Then you can easily take out your castings out on the finished side. There is also plenty of room under your bin to collect the compost runoff (a good liquid fertilizer).
This item is for pickup or local delivery only